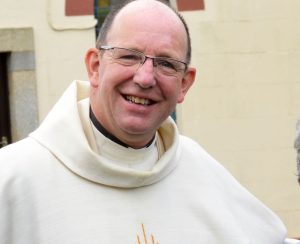 The Presbytery,
Dublin Road,
Carlow
Tel: 059 9131 227

I was born in 1963, in Clonmore Parish, West Wicklow. I am the eldest of 6 sisters and 2 brothers. I went to primary school in the Patrician Brothers, Tullow. My secondary education was received in the Patrician College, Ballyfin.
I entered St Patrick's College, Carlow in September 1982 to begin my formation for the priesthood. My final year before ordination was spent in All Hallows completing my Pastoral Ministry studies. During this time, I also ministered in Fairview Parish, Dublin.
I was ordained to the priesthood on the 10th July 1988. My first appointment was to Ballyfin Parish as chaplain to the Patrician College and Pastoral chaplain to Portlaoise General Hospital.
In 1993 I completed my Clinical Pastoral Education training in Cork University Hospital. I then joined the Parish team in Portlaoise, taking responsibility for the hospital ministry and looking after the Heath area of Parish. In 2000, I was sent to Portarlington Parish. In 2004, I had the opportunity to take a sabbatical in Chicago. I completed a Masters in faith formation and spiritual direction with the Loyola Institute. In 2005, I returned to Portarlington. The Parish team now had responsibility for Emo and I resided there.
I have worked with Faith Development Services on training for ministers of Holy Communion and formation of primary school Boards of Management. Bishop Jim Moriarty asked me to look after the Diocesan preparation for the Eucharistic Congress in 2012. You may also have met me at the Diocesan stand at the Ploughing Championships, or at the Diocesan stand in the RDS for the World Meeting of Families, 2018.
In 2012, I was asked to be Parish Priest in Myshal and Clonegal. I thoroughly enjoyed my time there and am honoured to have had the experience of working with so many wonderful and talented people. After 8 lovely years in the shadow of Mount Leinster, I was appointed Administrator of Carlow Cathedral. I am excited and nervous about coming to Carlow. It is a new beginning for me and a new beginning for the Parish community. My prayer is that I will be able to fulfil the role as Administrator while also fulfilling administrative duties in Bishop's House. I ask Our Lady's blessing and intercession on our Parish as we embark on a new stage of our faith journey together.
Our Lady, Seat of Wisdom,
Pray for Us!
May God bless and protect us all.
Fr. Tom, September 2020.