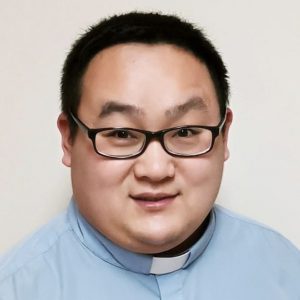 The Presbytery,
Dublin Road,
Carlow.
Tel: 059 9131 227

My name is Fr Yanbo Chen and was born in 1988. I am a traditional Chinese man. Chen is my surname, and Yanbo is my first name. according to the traditional culture of China, we always put the surname before the given name, so you can also call me Chen Yanbo as well.
I joined the Society of the Divine Word (SVD) in Shijiazhuang, the capital of my province Hebei, China in 2010, at the age of 23.I was the only stud and professed my first cows in 2012. On the 9th of April 2014, I come to Maynooth to stud English and continue my unfinished theology studies.
I stayed at Divine Word School of English in Maynooth for a year. As a whole, it was a bittersweat time for me, woking and speaking through English was a challenging endeavour! However, through hard wok and the grace of God, I finished my theological training in St Patrick's College, Maynooth and was ordained Deacon to work in the Parish of St. Matthew's Church, Ballyfermot, in 2018. I was ordained to the priesthood on the 16th June 2019, by Archbishop Diarmuid Martin. After my ordination I was transferred to the Church of St Philip the Apostle, Mountview and Huntstown Parish, for one year.
I am delighted and humbled to minister in Carlow Cathedral. I am very glad to come to this parish to continue my pastoral ministry. Please pay for the new Parish team as we continue to proclaim the Good News of Jesus Christ and rest assured of your continued prayers for all the parishioners of Carlow Cathedral and the wider Church community.
Fr. Yanbo, September 2020.